Water and Electric meters are read monthly. Utility bills include monthly charges for electric, water, sewer, garbage, landfill, and storm water utility. Bills are sent out the 1st week of each month and payment is due by the 26th day of the month. There is a penalty charged for late payments. You may sign up to have your checking account or savings account automatically debited for payment of your utility bill. A deposit of $200.00 is required for new service, unless the customer is an owner of the property. There will be a $30.42 one time hookup fee added to your first bill.
The City of Aurelia has available for purchase an outside water meter to be used solely for residential purpose i.e. watering lawns, gardens, filling pools, etc.  The meter is hooked to your outside faucet with a hose attachment and records the amount of water used that does not enter the sanitary sewer.  Cost to purchase meter is $95 and you are refunded once a year at $.05 per cubic foot of water usage recorded on the meter.
Water Rates: $8.39 minimum monthly bill
Single rate for all usage......$0.0445470 per cubic foot
Sewer Rates: $9.20 minimum monthly bill
Plus .034 cents per cubic feet
Garbage Rates: $22.16 per month, landfill only $12.66
Storm Water Utility: $1.00 per month
Aurelia Municipal Electric
Cody Cedar, Electric Superintendent
E-Mail: aurmunel@newulmtel.net
Cindy Kai, Deputy City Clerk
E-Mail: cindy@aureliaia.com
236 Main Street
Aurelia, IA 51005
Phone: (712) 434-2025 or (712) 434-2055
Fax: (712) 434-5986
Monday-Friday
8:30 a.m.-4:30 p.m.
Residents of Aurelia receive electricity from Aurelia Municipal Electric. The electric currently has 538 electric meters, which consist of residential, commercial and industrial customers. The utility purchases power from Northwest Iowa Power Cooperative (NIPCO) and Western Area Power Administration (WAPA). Aurelia also belongs to Western Iowa Municipal Electric Cooperative Association (WIMECA) which is a cooperative that includes the cities of Anthon, Aurelia, Hinton, Mapleton, Manning and Onawa.
The electric is governed by a Board of Trustees. The current board members are Roger Redig; Craig Ballantyne; Marvin Krause; Deloy Bruce; Dave Johnson; and the employees of Aurelia Electric are: Cody Cedar, Electric Superintendent; Cindy Kai, Board Secretary and Utility Clerk.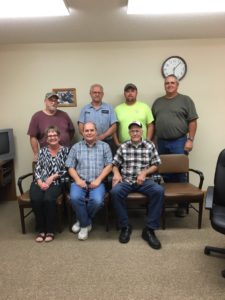 Reliability has always been a main concern of the utility. When the utility was formed in 1974, the decision was made to use all underground lines to supply power to the City of Aurelia. These original lines have all been replaced with new underground lines in recent years.
Aurelia Municipal participates in NIPCO's rebate programs for electric heat and electric water heaters. There are generous rebates available for home owners to install electric heat sources and electric water heaters. There are also reduced rates available for the kilowatts used for electric heat and electric water heaters.
Aurelia Municipal values its customers and the quality of life in Aurelia and does all it can to help maintain this high quality. Many improvements to the community are a result of monetary and/or man power and materials supplied by the utility. We have assisted in the installation of lights at the newest Little League ball field, lights at the high school football field, the new concession stand at the baseball/softball fields, the remodeling of the football concession stand, and lights and wiring of new computers at the Library. Donations have been made to the Aurelia Fire Department, the Aurelia Day Care, Aurelia Economic Development, Cherokee Area Economic Development, Aurelia High School After Prom, Aurelia High School DECA trips, Aurelia Heritage Society, Friends of Aurelia events, swimming pool improvements and many other worthwhile community projects.
Electricity shall be furnished at the monthly rate per meter as follows:
Residential: Service Charge – $14.00
Plus
Energy Charge – 1st 1,000 KWH @ $.09275/KWH
Over 1,000 KWH @ $.06095/KWH
Commercial, Single-Phase: Service Charge – $14.00
Plus
Energy Charge – 1st 1,500 KWH @ $.0954/KWH
Over 1,500 KWH @ $.06095/KWH
Industrial, Three-Phase: Energy Charge – All KWH @ $.0318/KWH
Plus
Demand Charge – All KW @ $17.50/KW
Minimum Bill – $15.00
Electric Heat Submeter Credit: During winter months of November through April. All KWH on submeter at $.0424/KWH