Welcome to Aurelia
Located in Northwest Iowa, Aurelia is the home to nearly 1,000 people. We're a safe, quiet, and clean community, where everyone knows and cares about their neighbors. You'll find affordable housing, low taxes, and state-of-the-art utilities without the big city expense or hassle. Featuring an excellent school system, sound municipal government, dedicated local business owners, and bountiful recreational opportunities---Aurelia offers something for everyone! Come, check us out today and begin savoring the sweet life in Aurelia, Iowa.
The City of Aurelia is taking applications for a library board member effective immediately. If interested, please pick up an application at City Hall. This is a three year term.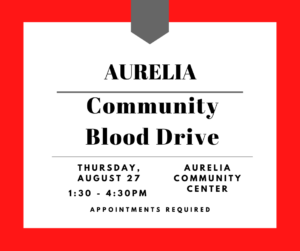 LifeServe will be collecting blood donations at the Aurelia Community Center on Thursday, August 27th from 1:30 – 5:30pm. Please consider donating to this vitally important service.
Appointments are required and can be easily scheduled at the following link:
LifeServe Donation Appointment Schedule
Code of Ordinances
Our city code is now online.
Upcoming Meetings
The Aurelia City Council meets the 3rd Monday of every month.