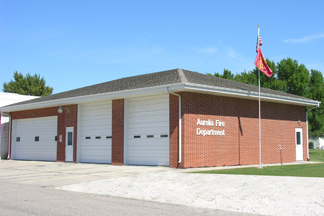 Lucas Erpelding , Fire Chief
E-Mail: mailto: mailto: aureliachief@gmail.com
Roman Redig, 1st Asst. Chief
Mark Lindgren, 2nd Asst. Chief
110 Myrtle Street
Aurelia, IA 51005
EMERGENCY 911
"To Protect and Serve the Aurelia Community"
Established in 1891.
The Aurelia Fire Department serves approximately 105 sq. miles.
Currently have 21 volunteer firefighters and 10 personnel with Emergency Medical Service certifications.
We operate as an EMT level service for medical emergencies.
We are trained to use the Jaws of Life, SCBA (Self-contained Breathing Apparatus), water pump operations, and numerous other fire fighting skills.
Numerous Firefighter I and Emergency Rescue Tech trained personnel.
Don't forget to come join us on the 3rd Saturday of July for our annual Fireman's Ball Fundraiser with meal at the Community Center.
• Lucas Erpelding, Fire Chief, EMS
• Roman Redig, 1st Asst. Chief, EMS
• Mark Lindgren, 2nd Asst. Chief
• Roger Redig, Secretary/Treasurer
• Gene Suhr, EMS
• Tom Mier
• Leigh Peterson, EMS
• Brent Zoch
• Jim Bezoni, Jr., EMS
• Josh White


• Alex Burditt


• Brock Mier, Cadet
• Brandon Mier, Cadet
• Alexa Fredericksen, Cadet

• Mitch Langschwager


• Spencer Bezoni, EMS
• Matt Fredericksen
• Christopher Ernst, EMS
• Dustin Wieland, EMS
• Cody Cedar
• Jeremy Pressley, EMS
•

Jeff McKenzie


• Amanda Meyer
• Brad Noble
• Tyler Peterson, Cadet
• Alex DeRoos, Cadet
• Hanna Loring, Cadet
• Zach Erpelding, Cadet