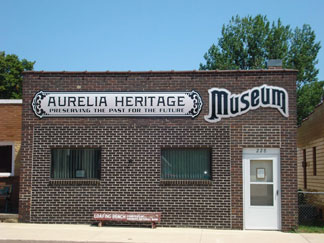 Pam Allen or Bonnie Lewis
228 Main Street
Aurelia, IA 51005
Phone: (712) 434-5706 or (712)-434-5824
The Aurelia Heritage Society was founded in 1976, at the time of the U.S. Bicentennial. The purpose of the group is to preserve and share the history of Aurelia and the surrounding area. The Heritage Center, located at 228 Main Street, has many historical items on display.
In the year 2000, the Heritage Society, with a bequest from a friend, purchased the house at 404 Main Street. One of the first houses in Aurelia, it was built by local merchant Reuben R. Whitney in 1879. Society members and friends have lovingly restored the house, furnished it with period pieces, and named it The Heritage House.
Business Hours: The Heritage Center and House are open by request. Special group tours can be arranged with any of the Aurelia Heritage Society Directors.