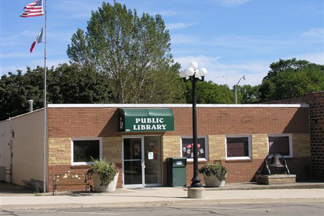 232 Main Street
P.O. Box 188
Aurelia, IA 51005
Phone: (712) 434-5330
Fax: (712) 434-5330
E-Mail: aurelia.library@aurelia.lib.ia.us
Website: www.aurelia.lib.ia.us
Or contact any board member.
HOURS
Monday-Friday
10 a.m.-6 p.m.
Saturday
9 a.m.-1 p.m.
Established in 1995.
Mission:
To promote and encourage community interest in materials and services provided by the Aurelia Public Library and to serve as an auxiliary fund raising group for the library.
How Friends helps the Library:
Membership dues and fund raising activities have helped to pay for
Children's books ~ Summer Reading Program ~ Shelving
TV and DVD/VCR player ~ Toys for children's room
Circulation computer and software
Computer table ~ Microfilm reader/printer ~ Expanded DVD collection
Membership:
Any individual or organization may become a member through payment of dues (contributions). Dues are renewable yearly. The amount of dues are determined by the member, any amount is appreciated.
Friends is an incorporated 501c3 organization.
Translation:
Since this is a non-profit, tax exempt group, contributions to Friends are tax deductible.
Other ways to help:
Volunteer to help in the library
Participate in fund raising activities
Donate unwanted items (books, movies, computers etc.)
Tell others about our great library!