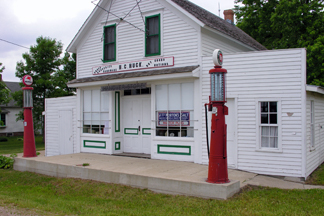 Enjoy a step back in time as you visit the Hanover Historical Village. The restored country general store showing original furnishings, old time barber shop, unique two story machine shed, and old time home provide an experience from long ago. The working mill house with its pulleys, shafts and belts as well as the display barn with old time agricultural displays, also provide an insight into agriculture from years past.
Mark your calendars for the Annual Hanover Festival.  Come and help us celebrate our festival with toe tapping polka and old time music to listen or dance to. All buildings will be open and numerous displays, demonstrations, games and petting zoo will be enjoyed by all. Food is also available. Gates open at noon with music from noon-7pm. Admission will be charged to all over 14 years of age. Free parking – bring your lawn chair.
Hanover Historical Village is located 8 miles southwest of Alta, Iowa, at the corner of M27 and C65. Tours are available any time by appointment. Contact vwinterhof@evertek.net or 712-225-1980 or 712-434-5410.